Gym equipment, Gym equipment india, Gym equipment Syndicate - Jalandhar
Friday, 8 April 2011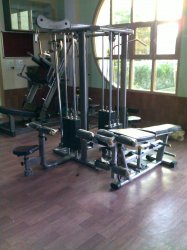 Contacts

amit sethi

09316970498
Item description
Manufacturer of Syndicate Gym equipments, Fitness equipments , Exercise Equipment, Health Club Equipment, ... Commercial Treadmills , Selectorized weight stations with hydraulic seat adjustment height of 4 feet stations , Isolateral machines like Flat bench press with Clutch system, Incline press with cluth system, Hack squat cum leg press with gear angle adjustment three side weight, Smith machine with angle adjustment . Equipments are designed in collaboration with professional exercise experts, professional body builders, health and fitness consultants, reputed athletes and engineers. it's commitment to the goal of designing, manufacturing, and providing the best weight resistance exercise equipment in the country.
Syndicate gym industries manufactures the most extensive line of Selectorized, Free-Weight and Multi-Station exercise equipment in the industry, and introduces new and innovative products on a continuing basis
Syndicate gym industries remains focused on providing our customers with the highest quality Exercise Equipment available in the country today.